Adopting digital and manufacturing techniques in government-led building projects will help drive investment and innovation in the construction sector.
These techniques have already been used to great success in the construction of several projects, including the A14 Cambridge to Huntingdon improvement road scheme.
Matthew Vickerstaff, interim Chief Executive of the IPA, and his team recently visited the site to discuss benefits of off-site manufacturing with Highways England CEO Jim O'Sullivan and to see progress on the improvement scheme. This was a really great opportunity to hear how Highways England plan to adopt ever increasing levels of automation and off-site construction in road improvement schemes and smart motorways.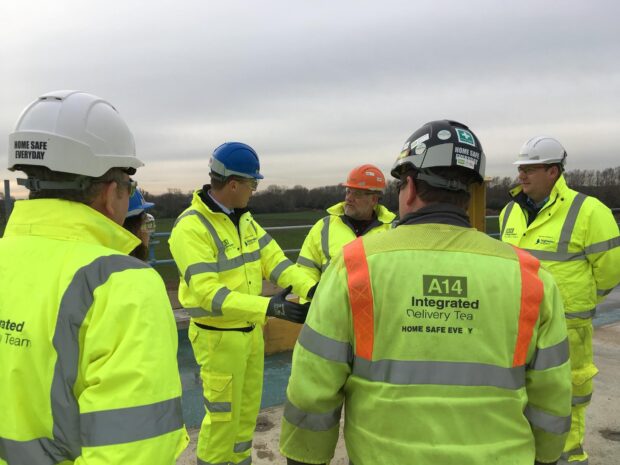 The A14 improvement scheme is Highways England's largest single project currently in construction and has utilised off-site construction techniques during the construction phase. The scheme is constructing 34 new bridges with some elements developed in a factory environment before being transported and assembled on site. This approach has already delivered clear benefits in terms of productivity, safety and minimising disruption on the existing road network.
Government has already set out an ambitious plan for transforming infrastructure and the construction sector over the long term through its Transforming Infrastructure Performance and the Transport Infrastructure Efficiency Strategy.
This includes the Autumn Budget 2017 commitment to leverage the government's buying power to support the modernisation of the construction sector with five central departments (the Ministry of Justice, Department of Health and Social Care, Department for Education, Department for Transport and Ministry of Defence) announcing a presumption in favour of offsite construction.
We have made considerable progress recently. For example, the Department for Education has been working on the standardisation of learning spaces and the Department of Health and Social Care's 'Procure 22' Construction Procurement Framework has a programme that develops standardised products, tools and designs, and continues to progress this work with its supply chains. We also recognise that the adoption of these techniques will take time. This is a long-term strategy to make real and lasting changes to improve the productivity of the industry.
Government has now has set out the next steps to adopting a more consistent and strategic approach to using digital and manufacturing techniques in government building projects. This proposed approach uses standardised components across multiple projects that can be manufactured off-site.
The government is calling on industry and the public to help shape these plans through a call for evidence.
The call for evidence is open for responses until 17 February 2019.