The entire globe has been impacted by COVID-19 in ways that we could hardly imagine just a few months ago. Every one of us has been affected in our personal and professional lives, and I know that for some of you, the impacts have been profound.  
The impacts on our projects, too, have been significant.  Many people have been diverted to work on urgent COVID-related projects.  Others of you will have found very real challenges in delivering projects in a socially distanced world, with impacts on wider workforce availability and  productivity, and on the supply chain. 
The way in which project delivery professionals have pulled together during COVID-19, though, has been inspiring. We've shown that we're resilient and able to adapt quickly and easily.  There have been many stunning projects delivered to timescales we would have not thought possible - ranging from the Nightingale Hospitals to the HMRC's furlough scheme, launched in four weeks and now supporting the incomes of more than six million people.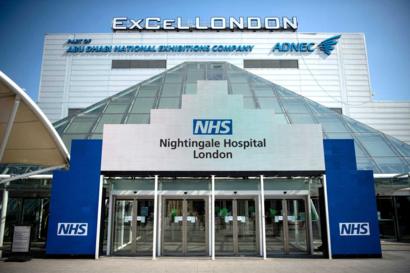 And there are many other, less well known success stories - for example the way the Wellingborough Prison project has kept people safe and working on site by adapting practices to meet  public health guidelines.  
As we start to share and celebrate these stories, and learn from them, some things stand out.  The fundamental importance of putting people first in delivering projects successfully, and of bringing together diverse skills and perspectives.  Of focusing relentlessly on outcomes. Of controlling scope, managing complexity, and learning from experience.    
As we look to the future, the projects we deliver will be fundamentally important in helping remobilise the UK economy.  So staying focused on what really matters in a project, the core principles underpinning successful project delivery, needs to stay at the forefront of our delivery.  
For the last few months, the Infrastructure and Projects Authority has been talking to project professionals across government, and beyond, about the things you think are the core principles underpinning project delivery.  We've also looked at the findings of many reviews and lessons learned exercises.  And we've now brought these together as the eight principles for project success, a quick guide for practitioners on things to get right for any project to succeed.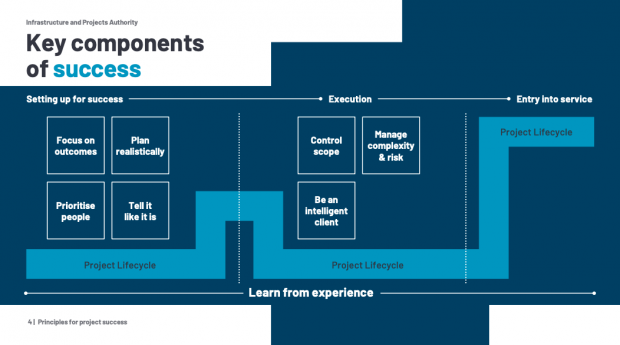 Using the principles 
The eight principles are designed as short, memorable headlines unpacked by supporting bullets and further resources: a quick guide for practitioners on things to get right for any project to succeed. They are deliberately short and action-focused: the aim is for them to be easy to understand, no matter what kind of project you are working on. 
The principles draw on the experience of project professionals and on a broad range of review findings and guidance, both in government and across professional bodies. They  should align with accepted good practice nationally and internationally.  
The principles sit alongside the government functional standard for project delivery and other IPA tools and guidance, designed to support our wider aim to create a consistent culture of world class project performance.
Of course, these principles are not new: indeed they're widely understood.  But in the complex and unpredictable environment in which major projects are delivered it can be easy to lose sight of them. So we hope that bringing them together in this way will help people remember them and use them to deliver projects successfully.
Building towards the future
As we begin to move away from the immediate response stage of COVID-19, delivering our infrastructure and other major projects will be fundamentally important to the revival of the country's economy. To quote the Prime Minister, now is the time to: 
Mend the indefensible gap in opportunity and productivity and connectivity between the regions of the UK, to unite and level up. And to that end we will build, build, build. Build back better, build back greener, build back faster.
To do this we must get the basics of project delivery right. We can start this by adopting the eight principles for project success and keeping them at the forefront of everything we do. 
We have much to build on but we have more to do.  Our goal is nothing less than world class delivery. Let's build on the hard won experience of the last few months, and the many years of learning across our professional community, to help us get there.