For the first time in many years, Pride Month did not take place the way it usually does, with its unique combination of protest and celebration. Celebration of diversity and what has been achieved, but also protest and a rallying cry for what we have yet to achieve. 
This year, instead, Pride has been celebrated a little differently, mostly online. The two phrases we've all heard countless times, as people try to make sense of what is going on, are: 'these unprecedented times' and 'the new normal'. I really feel that when it comes to Diversity and Inclusion (D&I), we should be careful not to use 'unprecedented times' as an excuse for inaction but instead as a reason to try even harder than we normally would.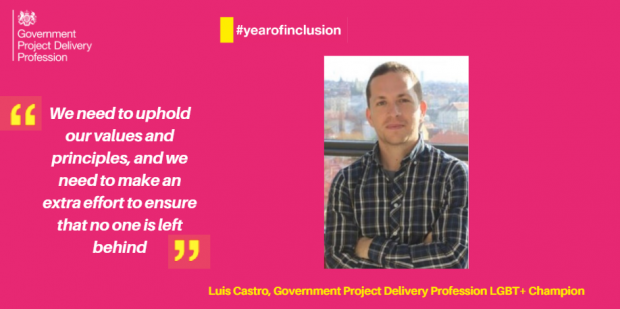 Upholding our values and principles
Psychology tells us that during times of stress, we may display behaviours that are less open, transparent, and inclusive. Having to do things at speed means we may be tempted to take shortcuts. We may write a piece of policy at speed, but are we taking into account all the citizens that may be affected by that policy? What about vulnerable citizens? Are we consulting with people with other points of view and if we cannot, how are we compensating for that? We also need to focus on fair and open recruitment, the profession will provide the most value if it reflects the diversity of society.
This is why I think that during these 'unprecedented times', we need to think harder than ever about D&I. We need to uphold our values and principles, and we need to make an extra effort to ensure that no one is left behind.
Become an actionable ally
We can all do this through the actions we take in our day to day lives. If you're looking to support and create change, a really effective way to do this is to be an actionable ally. You can read more about what being an ally really means here.  
In the Government Project Delivery Profession, and in my capacity as LGBT+ Champion, we have plans to create an ally programme as one way of delivering the ambitions set out in our D&I Strategy.  
Everyone has the ability to be an ally and, although it might seem small, it can have a big impact.