I'm the Chinook Delivery Team Leader in the MoD. It's a dream job, working in an amazing team, an iconic defence capability with a very supportive customer, engaged industrial partner and doing a job that is incredibly rewarding. This role has given me personally and professionally so very much, some incredibly proud moments – among them, winning the Association for Project Management "Project Professional of the Year" award in 2017.
How did I come to win I hear you ask?
Well, firstly, after some encouragement (Civil Servants aren't that good at self-praise and I am so fortunate to have some very supportive senior leaders) I actually applied. I saw the award as a real opportunity to celebrate success, not just for me, but for my team, my Department and the Project Delivery Profession as a whole. In the public sector we all undertake such vital roles for the nation and I truly believe that we can compete in any discipline with outside industry.  
Surely you have to be some sort of "super" project manager to win an award?
Absolutely not, it is down to the people, the product and the delivery.
I'll admit that I currently have a very complex portfolio of in-service support arrangements, ensuring that the Chinook helicopter force is available to meet the range of defence requirements. I also have a variety of other projects ranging from safety modifications, capability enhancements and new helicopter procurements.
But it isn't all about me, this is a team sport and I have an amazingly dedicated team around me. The range of activities required of the team was driven by the life cycle of the constituent projects from support strategies, project management plans, and financial costings and assurances, through to managing complex flight test programmes.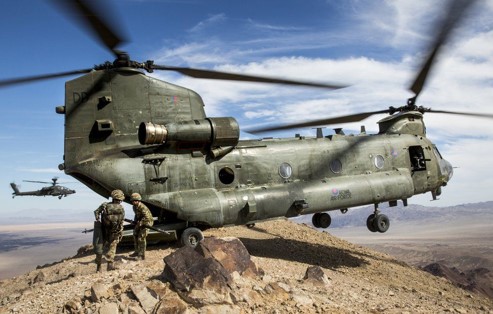 Key to winning the award was as much about the "how" as the "what"
You can't deliver successful projects without working through others. To do that you need to keep people motivated, have a clear direction, a strong team spirit and a sense of humour and personal resilience. Decision-making responsibility and clarity is crucial to any role in project delivery.
Success in project delivery is not only determined by final delivery of a project but also by the levels of appreciation from our front-line customers.
I would encourage anyone working on a project to go and see the work on the ground. All of the team had the opportunity to visit RAF Odiham to see the Chinook force in action. Visiting the engineering sections helped the team to understand the challenges both operators and engineering personnel face and how important our role is in allowing them to achieve theirs. The continual context from the front line was key to motivation and inspiration.
In the end it is people who deliver projects. But they also need people who support, encourage and motivate them.
I was both thrilled and genuinely humbled to win the award. It recognised a lot of hard work from my team and it will mean a lot to me for years to come.  
This year's APM Awards are open and I strongly encourage you to enter your Project Team.  Recognition is important and it is a great team night out.
There is only one week to go, so it's not too late. Enter your Project Team for the APM Awards this year.