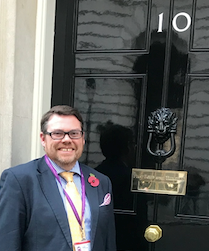 People are the most important aspect of any project or programme and having the right people with the right skills is critical to successful delivery. The Government Online Skills Tool (GOST) is an online skills platform which allows project delivery professionals to manage their career and capability development. It fully supports the Project Delivery Capability Framework (PDCF), which is used by over 12,000 project delivery professionals across Government.
I think the new GOST tool will be a game changer and a key enabler to building a more capable and competent Project Delivery Profession.
Nick Smallwood, Chief Executive, IPA
This is a big step forward and will really help us in building professional skills across government over the next few years.
Fiona Spencer, Director Function, Profession & Standards, IPA

GOST enables users to assess their skills, identify gaps, provides learning solutions to address them and build personal development plans. It also enables teams and departments to identify gap areas and develop specific capability initiatives. Since it launched in 2017 there are over 8,000 users across 14 different Departments and a number of Arms Length Bodies.
An improved user experience 
The IPA recently awarded the contract for a new GOST platform to Comaea, the world's leading provider of Enterprise Competency Management Solutions. The new GOST platform was launched on 28 October. Around 300,000 lines of data were transferred!
The new platform provides a better user experience and also supports future capability initiatives currently being developed for the profession. User feedback has been extremely positive and a number of new organisations are keen to adopt the tool in the near future including colleagues in parts of the Cabinet Office and Ministry of Defence. Such is the interest that my diary is filling up with demos and presentations (virtually at the moment) across Government and beyond!
Sharing across professions
The Project Delivery Profession is leading the way across Government in its use of skills assessment tools supporting capability and career frameworks. Rupert Macneil, Head of Civil Service HR, recently praised the PDCF at the Public Accounts Committee. We actively share our experiences and lessons across other professions and are very much seen as the exemplar in this area.
The Project Profession has a very good framework, the PDCF. We are getting a better view on how many people there are and where there skills gaps within the profession are.
Rupert McNeil, UK Government Chief People Officer
This is a really exciting time for project delivery professionals working across Government. GOST, alongside the PDCF, is an integral part of the forthcoming Government Projects Academy. This will be a single, virtual hub for professional standards, accreditation and training for project delivery professionals across government.
GOST and PDCF provide the profession with invaluable tools to help manage their careers working in some of the biggest and most complex projects and programmes in the world!
To find out more about the Government Online Skills Tool and Project Delivery Capability Framework, sign up for the Government Project Delivery Conference here.