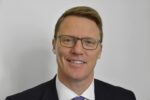 Matthew Vickerstaff
Interim CEO, Infrastructure and Projects Authority.
Matthew Vickerstaff, IPA Interim Chief Executive explores the importance of digital and the role of 5G in our future economy.
The IPA has been working closely with the Department for Transport doing internal analysis on recent transport projects with the aim of seeing what we can learn to prevent the same problems occurring in future.