A guest blog from James Kemp, Deputy Head of Profession at the Department for Work and Pensions (DWP):
"The Project Delivery Profession is deeply valued."
"Get involved and be challenging."
"Complexity is complicated."
"We need to get better at prioritisation"
These are just a few quotes from our very first DWP Project Delivery Conference on Striving for Excellence. Over 250 Project Delivery Professionals from all across the UK gathered in Manchester to make contact, put faces to names and voices, look outside our own experience, learn from each other, and most importantly make time to talk.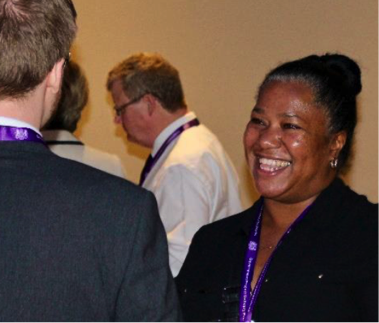 The day was not just about learning. Recognising success was also important, and the day ended with the DWP Project Delivery Profession Awards, with several awards presented by Neil Couling (see Awards List below).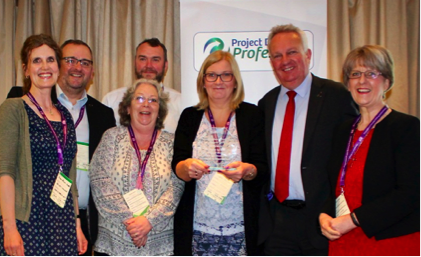 Our speakers were many and varied, from the mysterious Project X, through the history of building prisons, to lessons learned on the Digitisation of the Passport Systems and the trouble the public had trying to take and submit their own photos. Something we could all relate to.
Philippa Manley, HM Passport Office (HMPO), told us that less than a quarter of people managed to take a suitable photo when the digital service was first introduced. So HMPO made this short YouTube video to help people. This more than doubled the success rate. So if you are renewing your passport soon, watch the video. It really works.
"Complexity is complicated" explained Richard Kirkham, Manchester University, as he told us the story of the Holloway Prison transformation (who knew that hospitals influenced prison design) and the importance of Project X which is building the evidence base for what works in project delivery and why.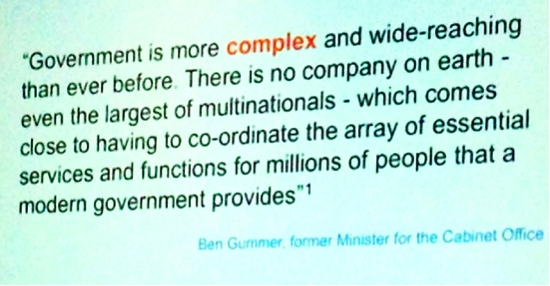 Over lunch we ran five breakout sessions, including one I ran on "how to make multidisciplinary teams work well". Ultimately, it came down people and leadership. Good Leaders know their teams, value expertise in everyone, set a clear vision and empower everyone to achieve the benefits of the project.
Mark Sutherland explained how the Project Delivery Capability Framework (PDCF) and the Government Online Skills Tool (GOST) will help us all to manage our careers in government. In DWP we also use it to describe job roles for recruitment. Not only for external job adverts, but also for our internal Project Delivery Pool which reassigns people onto new projects. So GOST and PDCF are really important to us in the Profession and in DWP.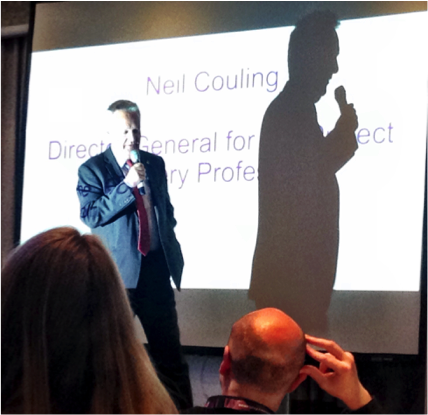 "I would encourage the Apprentices and Fast Streamers to make nuisances of themselves. Get involved and be challenging." advised Neil Couling, our Director General. Neil talked about the need for greater prioritisation in the future, so that we can deliver our projects with the people and money that we have.
One of the key themes of the day was the importance of "the right people" in successful delivery. It came out very strongly in our crowd sourced session on multidisciplinary teams. More than anything else, it seems that people skills are the key to project delivery success, and one that we've identified as a focus for the DWP Project Delivery Pool.
Finally a thank you to the team that organised the event. You know who you are. This was the first DWP PD Conference and you have set the bar high for the next one.
Thank you Manchester.
Appendix: Awards categories, winners and runners up
In November 2017 we sought nominations for six categories of awards, one of which was split into team and individual. We had a range of nominations and these were scored by a cross section of the people in the Project Delivery Pool. The shortlisted nominations were then put out to a vote within the Project Delivery Community in DWP.
The winners of the individual categories are:
Sharon Mackenzie – Inspirational colleague
Mark Jones – individual Partnering and Collaboration
Lucinda Goodall (formerly Poulter) – Visionary Leader
The team winners are:
Innovation – Work and Health Programme for the selection tool
Partnering and Collaboration – Universal Credit Full Service Data team for working with stakeholders across DWP to deliver a data and business intelligence service
Project or Programme of the Year – Check your State Pension for working in partnership with HM Revenue and Customs to deliver the service to 45 million UK citizens
Team of the Year – The Work and Health Unit's Live Trials Support team for leading on the delivery of training for 700 work coaches across five Jobcentre districts.
The runners are:
Inspirational colleague – Christine Ogden
Individual Partnering and Collaboration – John Jessup
Visionary Leader – John Stott
Innovation – Improving Access to Psychological Therapies for employment advisers
Partnering and Collaboration (team) – Jobcentre Operating Model and the Newcastle Estate Corporate Hub Delivery team
Project or Programme of the Year – Auto Enrolment Programme and the Work Related Activity Component (WRAC) removal team
Team of the Year – The Leeds Corporate Centre Project and the People and Locations Management Information team.