Introduction
We, as individuals, interact constantly with our infrastructure and infrastructure systems. For example, take something as simple as a morning routine. Firstly, you may wake up and have a shower (water), cook breakfast (electricity/gas), maybe drive (road) to your nearest train station (rail) and commute into a city and take a short ride (cycle links) to your office and most likely you are using location data from your mobile device throughout this journey.
Although we may interact freely, and often seamlessly, across infrastructure systems, it can be surprising to learn that the systems and organisations responsible for them often have limited interaction and understanding of each other's operations and future capital investment programmes.
Government has previously set out its commitment to better join up how government selects, plans, and delivers major infrastructure projects and programmes in the Transforming Infrastructure Performance (TIP) programme.
Better integration across sectors will mean that projects can be consistently selected and planned on the basis of their ability to deliver the government's long-term economic, environmental and social priorities. The government has created the Geospatial Commission to maximise the value of location data as well as the National Infrastructure Commission to address the country's overall strategic infrastructure needs.
The Hackathon
To support the objectives of TIP and the government's remit to bring infrastructure organisations together to collaborate and share geospatial and operational data within an informal and secure environment, the Infrastructure and Projects Authority, in collaboration with the Geospatial Commission, hosted a Hackathon in February.
This event, held at Geovation, brought together more than 80 geospatial data users and experts from a range of infrastructure organisations, government and academia to work in teams to develop solutions to a common issue by combining their data and knowledge.
The theme of the Hackathon was to meet your 'infrastructure neighbours' and the challenge was about planning new hypothetical settlements and examining the impact these could have on the surrounding infrastructure.
A number of the participants provided data sets before the hackathon and the teams spent two days exploring ways of combining and analysing this data to enable intelligent planning decisions to be made.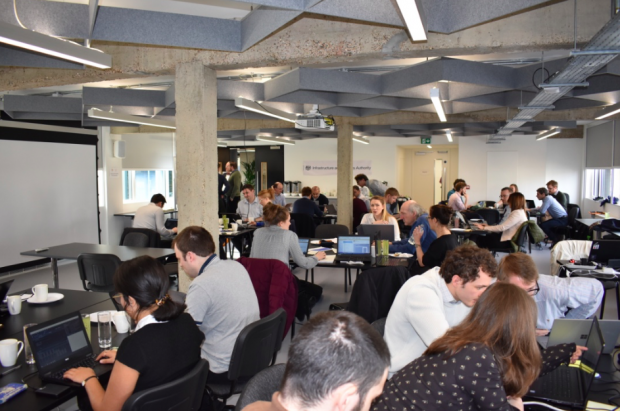 Several challenges had to be overcome. First there was the overarching issue of trust and security, to make sure data was shared safely and securely. After close interaction with the CPNI appropriate data management arrangements were made and the event could proceed.
Then as teams got to work with datasets they had never seen before, fundamental issues such as lack of metadata, interoperability and the lack of appropriate data were encountered. As part of this process we recognised that a number of lessons learned would arise and we therefore carried out a system of recording detailed feedback in parallel to the session. This feedback, as well as responses to a post-event survey, have been collected and will feed directly into the Geospatial Commission's work to unlock data with it's partner bodies.
Outcomes and Next steps
The event generated a huge amount of energy and enthusiasm. It was a fantastic demonstration of what can be achieved when organisations and people share data, come together and collaborate.
Although this was a competition, it did not dampen the discussions between the teams, sharing ideas and sector specific insights from matter experts. New relationships were formed and better understanding of each "organisation's" and sector's data was understood.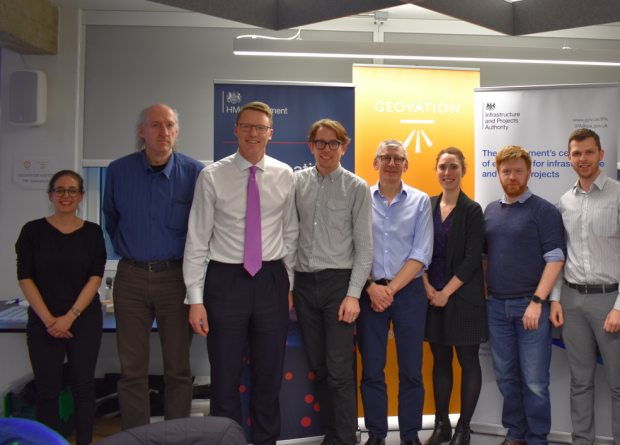 Academic Team 1 was named the winner, followed by a joint team from Transport for London (TfL) and the Environment Agency (EA) in second place. Both teams were able to leverage the data effectively as well as incorporate open data to understand the impact of new housing settlements on the surrounding infrastructure. They were able to highlight where new infrastructure is needed to support new settlements as well as the impact on the existing infrastructure.
What a great event!  And coming second through our collaboration with the Environment Agency was the icing on the cake. Thanks for the invitation a really engaging event and really an eye opener to the skills and talents available in the room - lets get collaborating with all these brilliant people! - Brent Leyshon, TfL Senior Project Manager
After a series of 5 minute pitches and some tough judging decisions the prizes were awarded by Nigel Clifford, Deputy Chair of the Geospatial Commission, who said afterwards;
It was great to be involved in the event - the noise, energy, teamwork and sheer imagination was inspiring. There was lots of cross-learning and some excellent outputs that hold promise for the future. Thanks to the sponsors and for Geovation for hosting.
As a result of experiencing this process from inception of the idea to the hosting of the event, both the IPA and Geospatial commission have grasped a better understanding of the challenges, intricacies and practicalities of integrating data. The cross-industry engagement highlighted the value this concept represents and has given us a benchmark from which to measure and drive improvement.
Following the success of the Hackathon the IPA & Geospatial Commission will be looking to host another Hackathon later in the year. If you are interested to hear more and have ideas about a suitable topic to be addressed then please do not hesitate to contact either organisation at ipa@ipa.gov.uk or geospatialcommission@cabinetoffice.gov.uk.