We recently held the first of a series of interactive sessions for departmental colleagues on how to deliver complex projects, with a focus on learning lessons from the Olympics.
The Olympics was a unique project in that it had a fixed deadline, a 7 year lead in time and it became a national endeavor to complete. Many people recognise it as one of the biggest project delivery success stories in recent years; however, it was also a project that started out with great scepticism. Not many people believed it could be successfully delivered.
While the principles of successful project delivery are well-rehearsed, this blog provides some key elements the Olympic team identified as ingredients for success.
Importance of vision
7 years before the UK won their bid in Singapore, the bidding committee played a video that set out the vision for the Olympics in London. This was extremely important, not only in helping the team to win the bid, but also setting a clear narrative for what the final project would look like and achieve.
The video became a communications journey not only for the public who got behind it, but also for the project team who were leading its delivery. It was clear from the outset what had to be delivered and watching that vision come to life was a tangible way to fully engage the delivery teams.
Have a definitive 'go live' date
The team put a giant clock in the middle of Trafalgar Square to count down to the final deadline. This helped focus the minds for the delivery team but also the vast number of stakeholders who were involved and impacted, including the public.
It also helped to create a sense of transparency, especially with senior stakeholders, and emphasise the reality of having to hit the deadline. In meetings, a smaller version of the clock was often put in the middle of the table in order to sharpen the discussions.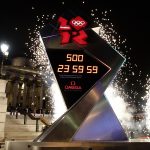 Prioritise your stakeholders
For huge, nationally significant projects such as the Olympics, there will undoubtedly be a vast number of important stakeholders - some with big personalities - all competing for attention.
The key to handling this is making sure that stakeholders are informed, but also managed appropriately. Part of this was setting up a clear governance structure so you knew which stakeholders to really prioritise. Good governance is ultimately about having the right people, in the right place and right time, there to unblock the process.
For the Olympics, they created a governance map and undertook an exercise of prioritising them: green (crucial), orange (important but not crucial to making the project happen) and white (the noise). They ignored people who had their own hobby horses or who were trying to use the project as a way of solving their own problems - as this can often be a huge distraction in complex projects.
Once you have prioritised your stakeholders, you then need to prioritise your time with them.
For example, after creating a special group for all the Senior Responsible Officers (SROs) to communicate directly to them, the delivery team then forced them to think of the red flags that were coming up and consider interdependencies across issues.  
While it is tempting to use your time to service stakeholders and the admin of running meetings, it's important that you use your time to tackle the real issues and have those difficult conversations to drive solutions.
Don't just report for the sake of it. The Olympics team turned their 65 page monthly report on delivery progress into one A3 page that focussed senior minds on the key decisions that had to be made.This page included the top 10 issues RAG rated, a pictorial risk representation and essential financial information.
See the project as a 'development opportunity'
While many people think the legacy of the Olympics was the village, stadiums or increased participation in sports, it was also the new generation of skilled project leaders that were created and nurtured via this project, and who have gone on to deliver other world class projects around the globe.
Throughout the project you will find that rising stars will emerge in your teams and some people will assume greater accountability and responsibility because they are very good at their jobs. This is a natural progression and should be welcomed.
Often it's more important to get the right people in with the right attitude and approach to working, not necessarily to have all the skills you need. People were developed by the Olympics project and very rapidly learnt a lot on the job.
A team of people will emerge who have the agility of thought to adapt to the delivery of the project as it happens. Identify who these people are and nurture them. You don't always have to recruit established people who are experts in their field. It's just as important to spot and grow talent and allow junior members of the team to grow while delivering the project.
Get yourself some 'handrails'
One of the most important things the readiness team did was create a set of handrails - or readiness tools -  along the way that gave people confidence that they were going to deliver.
These included a set of 'Readiness Objectives' which were deliverable from the user's point of view and were according to clearly defined criteria, with a 'Project Countdown' from the last 10 months so people could work backwards and understand what to prioritise in the final stages.
They also implemented and communicated a 'Put Your Pen-Down Date' - the time at which to stop planning and actually start implementing. This was published and promoted to all staff.
However, the most important handrail was the creation of a 'Readiness Declaration' - a series of statements - that key senior leaders had to sign up to. It included the 'Five Pillars of Project Readiness' - a common target that forced the completion of deliverables. Signing it became a source of pride and motivation for teams.
Have the right balance of assurance
Internal assurance was built into the delivery programme with the aim enabling the delivery team to move forward, as opposed to just providing a narrative for SROs.
It is reassuring to have wise people reassure you that what you are doing is right. But often too much assurance can use up valuable time and energy. Assurance shouldn't be to the detriment of getting on and delivering.
It's important to remove any overlapping reviews and remember that assurance is there to help, not overburden. When the balance is right it protects the programme and helps build confidence.
Beware of 'burn out'
On intense projects such as the Olympics it's easy for the team to burn out half way through. It's also common in the Civil Service to see a churn of officials working on projects (an average of 3 years for most government projects), as people move on to new opportunities, or get moved around.
One of the ways the delivery team mitigated against this was by creating a good social environment. It's important to mix work and social activities, not only to increase motivation but also to help the senior leadership understand what drives their teams.
They found that most of the Olympics staff stayed on the project as there was genuine pride to be involved and they wanted the honour of having worked on it. It can be difficult to set aside the time for social activities, but for the Olympics it paid dividends.
Prepare for the unexpected
There were unresolved issues right up until the games began, such as handling disruptive protests, security concerns, diplomatic incidents and potential cyber attacks. Inevitably there will always be unresolved issues despite how much you plan and prepare for the worst.
Yet the best way to deal with this uncertainty is by preparing for the worst and having robust contingency plans in place that you can routinely rehearse. It's not always possible to rehearse for things as there are some things you can't test for.  But have your plans in place regardless and don't gloss over what you know you can't train for.
After that, you need to trust the measures you put in place. For the Olympics they had to trust that their operations centre had the ability to continue in real time despite any disruptions.
The biggest crisis the Olympics faced was an unexpected one - having unfilled seats. It wasn't even on their risk register. It goes to show that there will always be something left-field you will have to deal with. The key is to be comfortable in that knowledge, trust your processes and be as prepared as you possibly can.
For further reading about lessons learned from the Olympics read the Institute for Government's report.  

Look out for our next IPA learning event on how to deliver complex programmes.