A guest blog from Steve Vine, Head of Profession at the Ministry of Justice (MoJ):
As Head of Profession for Project Delivery in the Ministry of Justice, you might expect me to say that our future is dependent on the successful delivery of projects. A bit biased maybe, but if we are to have safe and secure prisons, modern courts and tribunals services, and a smaller, smarter department, we need to be great at delivering change. And it's the same story across government. Almost all government policy is delivered through projects or programmes of one form or another and, with the added pressure of EU-Exit, the demand for project professionals has never been higher.
That's why in MoJ we are taking steps to professionalise the delivery of change with a dedicated Project Delivery function to raise standards, develop the next generation of Project Delivery professionals, and create an environment that allows projects to get on and deliver. Project delivery roles are amongst the most exciting and challenging in Government, and with the creation of the function we are developing a greater sense of identity and pride in the profession.
The project Delivery function brings together apprentices, fast-streamers and new recruits with experienced project professionals across the department to provide a real focus on developing capability and ensuring that our staff have the right tools, training, support and opportunities to excel at every stage of their career. As our capability grows we will be able to reduce spending on expensive consultants and contractors who we currently rely on to deliver most of our big projects, so saving us and the tax payer money.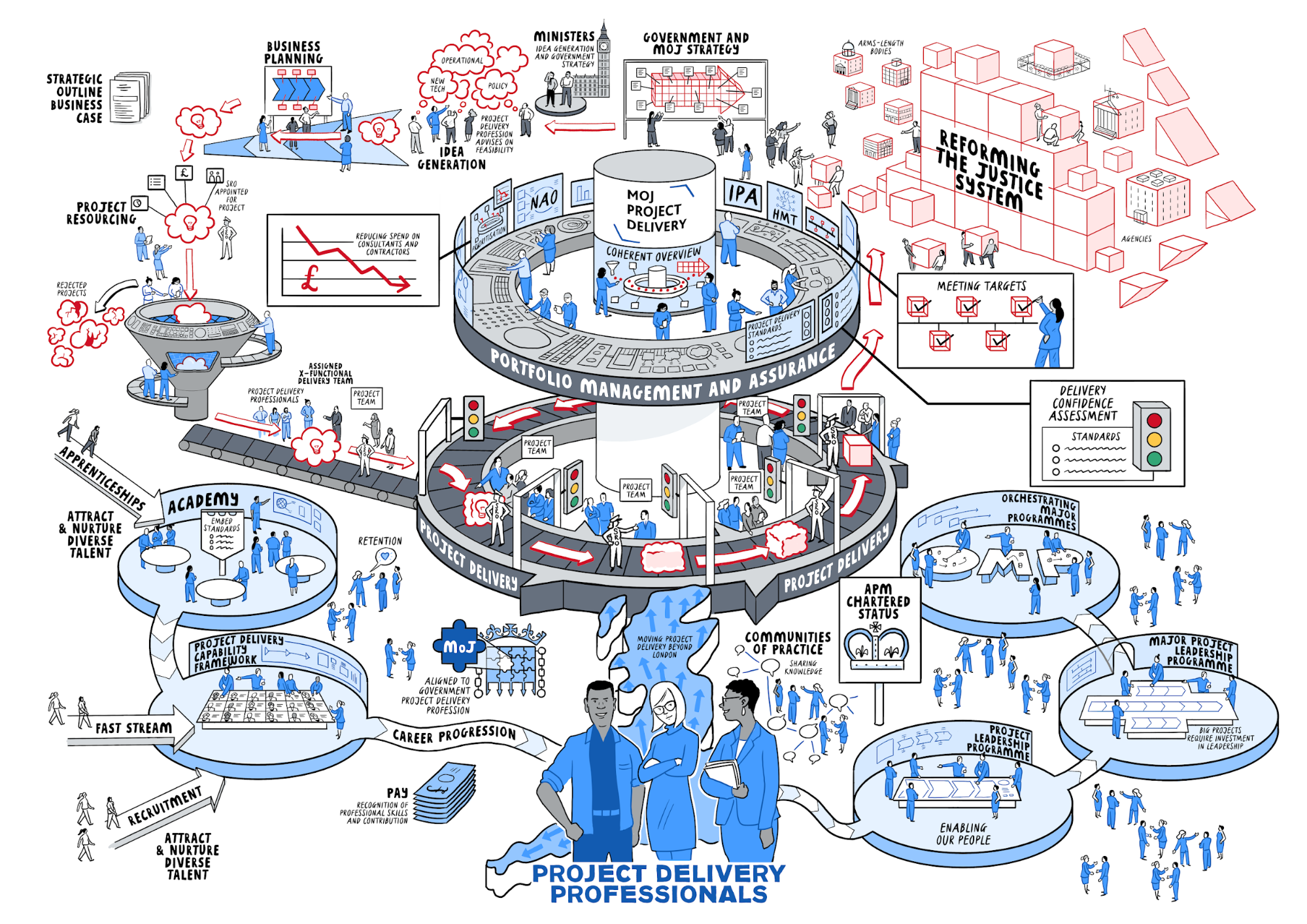 We are fortunate as a profession to already have two of the best leadership development programmes in government – the Major Projects Leadership Academy (MPLA) and the Project Leadership Programme (PLP) – but our offer for staff earlier in their career has been less well developed. And that's where the MoJ Project Delivery Academy comes in. Delivered by experts from across government, the academy is designed to develop our future project leaders and support their learning journey over the course of a year. We launched the academy in Leeds in February and have made some places available to other government departments to meet demand. The academy is a great example of how we are growing our own people and is a key part of a project professional's career journey in MoJ.
Providing rewarding careers for staff is at the heart of our vision for the profession, as shown in our Project Delivery rich picture. The Infrastructure and Projects Authority's (IPA) Project Delivery Capability Framework (PDCF) and Government Online Skills Tool (GOST) support this and we are already seeing improvements to our talent management and succession planning across the department. The rich picture also shows the full scope of the profession in MoJ, from project delivery through to portfolio management and assurance, and is proving a great way to engage stakeholders in what we are doing, sparking many lively conversations about our plans and how we can improve our services
It is an exciting time for the profession in MoJ and we have more to do to grow our community of Project Delivery professionals nationwide.
To get involved, or to find out more about what we are doing to professionalise the delivery of change in MoJ or to enquire about the MoJ Project Delivery Academy, contact us at ProjectDeliveryCoE@Justice.gov.uk.